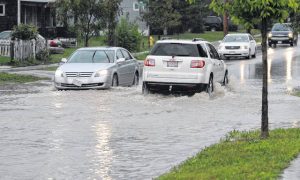 More rain heading our way!
Flash flooding that occurred Thursday evening in Lima and throughout the region could be repeated this weekend as the remnants of Tropical Storm Gordon pass through the area.
Property owners are asked to be sure roof gutters are clear and downspout and sump pump extensions are in place to carry stormwater away from the foundations of their homes. City officials encourage residents to check catch basins close to their properties as additional debris may clog them during heavy rains.
What do you need to do to be prepared?
Help clean city cash basins at the curb so that water has a place to go
Check your gutters and downspouts to make sure they are clean for water to pass through
Check on the sump pump in your basement/crawlspace to make sure it is operating.
Place personal belongings on tables or higher ground and not on the floor of the basement.
I have water in my basement what do I do now?
Call a restoration company and your agent if you plan on turning in a claim.
If water is coming in from the roof – take SPECIAL precautions to secure the area if it can be done SAFELY!  You're responsible for helping protect your home and preventing further damage.
Help by starting to remove water.
Wipe excess water from furniture.
Remove and prop up wet upholstery and cushions.
Place furniture up on blocks or foil to create a barrier between it and the water.
Turn on air conditioners and dehumidifiers/fans for maximum drying.
Remove colored rugs from wet carpeting.
Remove belongings to a safe, dry place.
Take an inventory of damaged items.
Take pictures of the area and damaged items.
What should I not do?
Don't leave fabrics in place – hang them to dry.
Don't leave books, magazines or other colored items on wet carpet or floors.
Don't use your household vacuum to remove water – use a shop vac.
Don't use TVs or other appliances in or near the affected area.
Don't turn on ceiling fixtures if the ceiling is wet, and keep out of rooms where ceilings are sagging.
Who do I call?
Insurance Agent/Company

Call, Text or Email us

Text Line 419-513-8463
Office Line 419-222-2454
Email info@leyinsurance.com
File Claim by clicking here

Disaster Restoration Company  – Call to get on their list.  Any of these below are great to deal with!

Cousino Harris 800-874-2122
Service Master by Case 419-568-1228
Elite Drain & Water 567-890-2900
Service Master Elida 419-516-4396
Swartz Contracting 419-331-1024
We are here for you and here to help!  That's what insurance is for!  If you have any questions or concerns please reach out to us!
Sincerely,
Michael Ley